Bilbao Choral Society
The Bilbao Choral Society was established in 1886, with the aim of developing the city's rich music tradition, and in particular that of choral music. Over the past 130 years the choir has built up an international reputation, and has enjoyed continuous successes, awards and great prestige.  Enrique Azurza assumed the role of Artistic Director in April 2016.
The choir has worked with many distinguished international conductors, amongst them Valery Gergiev, Rafael Frühbeck de Burgos, Antoni Ros Marbá, Juanjo Mena, Víctor Pablo Pérez, Christoph Spering, Yaron Traub, Erik Nielsen, Mstislav Rostropovich, Sir Malcolm Sargent, Michel Plasson, Fernández Arbós, Vladimir Golschmann, Ataulfo Argenta, Jascha Horenstein, Odón Alonso, Patrick Juzeau, Miguel Angel Gómez Martínez, Moshe Atzmon and Theo Alcántara, amongst many others. Recent and future highlights include performances of Mahler's Second Symphony and a staged production of Britten's War Requiem, under the artistic direction of renowned director Calixto Bieito.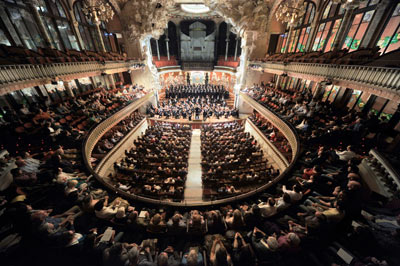 The Bilbao Choral Society performed the Spanish premieres of many of the great choral masterpieces, such as Verdi's Requiem, Wagner's Das Liebesmahl der Apostel, Brahms' Ein Deutsches Requiem, Mendelssohn's Elijah, Mozart's Vesperae solennes de confessore, Franck's Les Béatitudes, Borodin's Polovtsian Dances, Orff's Carmina Burana, Vaughan Williams' Hodie, Ligeti's Requiem and Britten's Spring Symphony. They are regularly approached to take part in projects featuring great works of the symphonic-choral repertoire, with some of their most recent projects including Beethoven's Ninth Symphony, Mahler's Second Symphony, Handel's Messiah, Dvorak's Stabat Mater, Bruckner's Te Deum and Fauré's Requiem.
They have collaborated with international orchestras such as the Moscow Symphony Orchestra, BBC Symphony Orchestra, the Berlin Philharmonic, Das Neue Orchester, National Orchestra of Bordeaux Aquitaine, l'Orchestre National du Capitole de Toulouse, Orchestre Symphonique de Lyon, The Royal Philharmonic Orchestra, the Budapest Symphony Orchestra, Aachen Symphony Orchestra, Ensemble Intercontemporain Paris, Orchestre Lamoureux, Orchestra Wiener Akademie and the Tokyo Metropolitan Symphony Orchestra, as well as with almost every professional orchestra in Spain. They have a prominent presence in Bilbao's annual Musika-Música festival, which is modeled on Nantes' La Folle Journée.  The choir has a strong commitment to the performance and promotion of music from the Basque region of Spain, and they performed the world premiere of Arámbarri's Castilla, Escudero's Illeta, Karmelo Bernaola's Euskadi. Euskarari Abestia, Guridi's Mirentxu and Amaya, and Escudero's Gernika.
Amongst their recordings are Granados' Goyescas with the Orquesta de Cadaqués and Gianandrea Noseda, Guridi's Amaya with the Bilbao Symphony Orchestra, and a CD dedicated to Basque composers and produced by EMI, with the Orchestre National du Capitole de Toulouse and its former Principal Conductor Michel Plasson.
Their latest recordings include Puccini's Turandot, recorded on the Naxos label with the Malaga Philharmonic Orchestra conducted by Alexander Rahbari, and a recording featuring works by Pablo Sorozabal with the Basque National Orchestra and its former Artistic Director Cristian Mandeal.  They have also recorded the zarzuela "El Caserío" by Guridi, together with the Bilbao Symphony Orchestra under its former Artistic Director Juanjo Mena.
The choristers
FIRST SOPRANOS
Calvo Ibarreche, María Camelia – Fernández-Villa Silva, Pilar – Franco Madariaga, Nora – Hernández Villalabeitia, Loli – Martínez Antón, Ana Teresa – Mendia Ibarrola, Cristina – Morales Lorenzo, Mª Jesús – Rodríguez Rodríguez, Flavia
SECOND SOPRANOS
Albizu Etxeberria, Mª Victoria – Asumendi Anza, Begoña – Ayerbe González de Arrilucea, Arrate – Barbero Cubas, Begoña – Dorronsorro Paulis, Mª Eugenia – Fontestad Utrillas, Catalina – Fuidio Tercero, Marta – García Aguirrezabal, Pilar – Hinsch, Swaantje – Ispizua Yarnoz, Iratxe – Mujika Arteagoitia, Ane – Ortega Barrena, Itziar – Sanz Muñoz, Lorea
COLLABORATING SOPRANOS
Barruetabeña Pirla, Irene – Elorrieta Landaluce, Aitziber – García García, Esther – Laespada Lazpita, Adriana – Martínez García, Mari Paz – Nardi Remonda, Laura – Piñal Del campo, Inma – Revuelta Pinto, Olga – Sáenz Díez, Virginia- Sagastizabal Santolaria, Lara – Sanz Muñoz, Isabel – Zamakona Vicent, Marta
MEZZOSOPRANOS
Abasolo Echevarría, Argi – Aurre Zapatero, Elisa – Bilbao Larrucea, Itziar – Clemente Rina, Mª Luz – Guridi Ispizua, Julia – Lejarza Ortiz, Miren Gurutze – Martínez de luco Lizarraga, Blanca – Muñoz Mancha, Ángeles – Riancho de Diego, Luz María – Riancho de Diego, Yolanda – San Antón Santa Coloma, Marta – Sancho Rodríguez, Adoración – Zalbide Fernández, Mª José
CONTRALTOS
Achútegui Astorquiza, Mercedes – Artola Garaizabal, Koro – Caller Pérez, Consuelo – Etxebarria Clemente, Rosario – Gomeza Mateo, Marisa – Gorostiza Anduiza, Sofia – Marcos Martínez, Pilar – Martínez Barrutieta, Nerea – Williamson, Georgina
COLLABORATING MEZZO-SOPRANOS
Dudareva, Tatiana – Mazpule Aguilló, Mª Jesús
SOPRANO UNDERSTUDY
Agirrezabala Garmendia, Gemma – Merino Terrón, Patricia – Torrealba Martelli, Yuraima
MEZZOSOPRANO UNDERSTUDY
Orchinnikova, Alla – Pena Mardaras, Cristina
CONTRALTO UNDERSTUDY
Ojanguren Parraza, Eva – Olano Lope, Elena
FIRST TENORS
Abete Montoya, Luís Alberto – Altube Garay, Juan – Gutiérrez Urrutikoetxea, Antón – Mendizabal Ibarronodo, Alfonso- Pérez Calvo, José Ramón – Yarza Utzeta, Eneko – Zubiaga Del Hierro, Jon
SECOND TENORS

Crespo Sáinz, Ramón- De Gisbert Lauzirika, Charly – Estévez Reina, Fernando – Guijarrubia Albajara, Gerardo – Herrán Alonso, Valentín – Ibarzabal Maguregi, Miguel Angel
COLLABORATING TENORS
Arrastia Saenz, Jesus – Estrade Smith, Jorge – Gerrikabeitia Fresnedo, Gorka – Gil Crespo, Santiago – González González, Alberto – Martínez Lozares, Aitor – Muñoz Salvoch, Oscar – Novel Garrido, Javier – Osorio Gibert, Enrique – Rodríguez Rodríguez, Primitivo – Unamuno Eguren, Gorka – Zabala Toraya, Fernando
BARITONES
Aparicio Justo, Tirso – Cortabitarte Iriondo, Antón – Garai Alconada, José María – García Alda, Mikel – Landín Aguirre, Julián – Marroquín Gómez, Aurelio – Patiño López, Alberto – Rodríguez Moreno, Arturo – Sánchez Martín, Domingo – Sangroniz Mancebo, Urko – Tellería Ceberio, Pello – Txakartegi Paniagua, Txomin – Ubierna Ubierna, Iñaki – Uriarte Fernández, Luís María – Vega Palenzuela, Alberto – Zorrilla Pizarro, Juan Ignacio
BASS
Arranz Magdaleno, Jesús – Basterretxea Zubizarreta, Markos – Bilbao Azketa, Juan – Ercoreca Cortabarria, Santiago – Fernández Millán, José Luís – Fernández Samaniego, Fernando – Gallego Pérez, José Luis – Labeaga Gómez, Santiago – Monleón de la Calle, Emilio – Omar Ansolega, Joseba – Peña Rodiño, Santiago
BARITONES AND BASS UNDERSTUDY
Aldaz Ilzarbe, Jesús – Aranburu Juanena, Txomin – Babaze Aizpurua, Jokin – Egoskozabal Martínez, Iñigo – Horno Gracia, Manuel – Lekerika Zárraga, Aritz – Mazas González, Narciso – Vázquez Aguado, Toño
TENORS UNDERSTUDY
Blazquez Otaola, Ramón – Marcos Lecumberri, Iñaki – Martínez Sánchez, Jordi – Sordo Castro, Javier
COLLABORATING BARITONES AND BASS 
Hernández Marín, José Manuel
LINE DIRECTORS (VOICE)
Sopranos: Nora Franco
Mezzos y Contraltos: Mª José Zalbide
Tenores: Fernando Estevez
Barítonos y Bajos: Urko Sangroniz